I am not a psychologist, I am not a doctor, I am not a judge and I am not a politician who knows how to manipulate people. And I don't want that either. I am simply a man who has two eyes, two ears, one mouth and yes – my mind. And while my mission seems to be to speak, my basic and key rule is, "Listen twice as much and observe twice as much as you speak." Now that I'm older, I'm a little less attentive to what people are saying. There are too many ugly words, too much hatred… I prefer to watch what they do.
Otherwise, for me, they are still a winning combination of encouraging and warm words, behind which are also useful actions. In fact, such combinations are not uncommon (people's distress is present), only the media (including social) do not know them or do not want to expose them, because it is not like, it is nothing special and does not deserve more attention. We like to be ungrateful, we like to be slanderous, we like to be superficial, crude, fictional, insidious, we like to be disrespectful to fellow human beings. What message is this for our descendants and future generations? Stop!
What is your priority here and now? I believe that life, however, is most valuable if we are healthy. So socializing and partying can wait a bit? It is clear what the Slovenian medical capacities are like, the hospitals are filling up, the medical staff is burning. In a situation where even the profession does not know the answer, it is better to be careful. Even at the expense of some freedom. Is it really so hard to comprehend and overlook that we just can't have everything in this period ?! And otherwise, never in history, in the long run, has this been the case.
One should be able to judge what the priority is. Health, peace, contentment? Pointing a finger at others doesn't matter now. It is important that as a nation we try to win the lesson of maturity. Even today, I do not have everything that is normal for many people. Well, I won't "cry." Because I know life is beautiful, but it's not always easy. Life also brings problems, and the challenge is to face them bravely, to let the beauty of life act as a balm of hope, which can make the pain of trials bearable.
Happiness, sadness, victory, defeat, day and night… All these are two sides of my coin as well. Similarly, life itself is full of moments of joy, pleasure, success, and comfort surrounded by misery, defeat, failures, and difficulties. There is no man on Earth, strong, wise or rich, who would not experience bad and hard days, fight and suffer, perhaps even reach the bottom.
Without a doubt, however, life is a holiday. Life is also beautiful, but one must always be ready to face hardships and challenges. A person who has never encountered problems in his life can never achieve satisfaction and happiness. There is always something missing… But it is nice if we know how to be together even in difficult moments.
I myself am proud of my independence, honesty and the support I give to others. Yes, I know, there is a thin line between pride and complacency, but I've learned that sometimes we also have to go beyond our selves to grasp the truth. I've found that when life gets tough, it's best to simply ask, "What can I learn from this?" Every experience is a valuable teacher, so I have no choice but to take on new challenges. Still. So that I can overcome them and be able to progress. Step by step.
Difficulties test a person's courage, patience, perseverance, and reality. Difficulties and hardships make a person strong and ready for peace with the challenges of life. Personally, my mother's words help me a lot in difficult trials: "When something is very bad, when you think you will not survive, wait three days… After three days it is easier and different. And you move on. "There is no doubt that there is no result without pain. Success is nourished and maintained only when one struggles and sweats. Look at the athletes! Look at Roglič! That's how life is. You know the words about a rose that not only has a beautiful flower, but also thorns. The thorns are supposed to be accepted by us as well. Just as we accept the beautiful side of life.
Those who think that good times last forever are mistaken. They do not require the required hard work and effort and easily "break down". It is easier to live if you realize that life is a mixture of success and failure, joy and sorrow. And only such a person, who is aware of this and does not lose hope in difficult times, experiences happiness, contentment and peace in life. Once again.
I am not a psychologist, I am not a doctor, I am not a judge and I am not a politician who knows how to manipulate people. I am simply a man who knows that nothing is eternal and I hope the mask does not either. The only constant is change, and we have to "learn to walk" on changed paths many times in our lives. I wish you all the best and stay healthy.  😊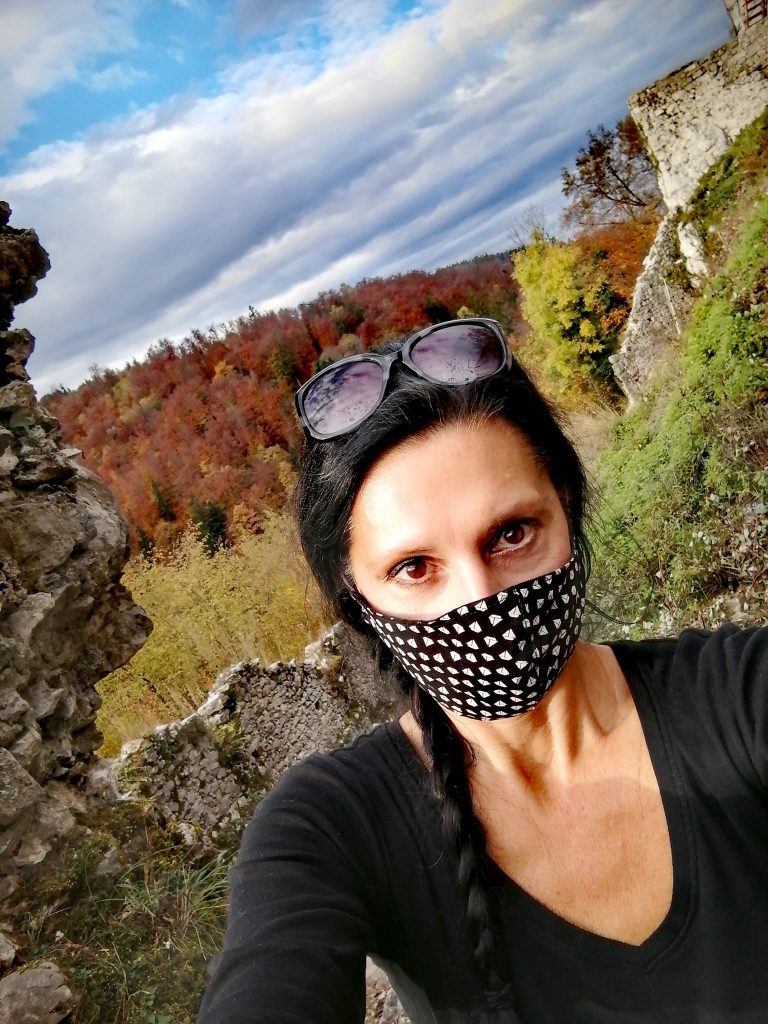 UM