I believe that what we read, watch, or listen to has a strong impact, not only on our moods at the moment, but also on the beliefs we develop and ultimately on who we become. All of this is food for the mind. If we eat junk food for a long time, we probably won't look great in our body and we won't feel good either. It's the same with the content we allow to come to our thoughts. But sometimes in life we ​​find ourselves facing obstacles or in situations with which we do not agree, but we cannot do much. If you feel "stuck" or frustrated and feel like your world is failing, be aware that no matter what happens, you have control over your responses and also the speed of avoiding negative feelings.
The topic of the corona virus seems to have become involved in every aspect of our lives. This seems to be the only thing everyone is talking about and the fact is that the news is affecting us. Governments recommend (or in some cases – force) their citizens to stay at home, in a home environment, to limit the rapid spread of the disease. While many complain about how this is ruining their social life or, on the other hand, they are burdened by infection and worried about where it all leads, I would like to present perhaps a slightly different view of the whole situation. What if this "my" view would actually make life easier for many of you? It definitely helps me.
I am aware of the fact that some people are really badly affected by the situation itself, but I really believe that the way we collectively respond to this can drastically affect the course of events. If we remain in a constant state of fear and stress, it will also not benefit anyone. Sports psychologist dr. Matej Tušak. What we can do is take care of hygiene and protection, while accepting the fact that we may have to stay in these conditions for at least a few weeks. And I think the key to how this experience will turn out for us is how we use time. Don't be gloomy and in a bad mood when you have to wait for the good "old" times. Nothing will be the way it used to be. We simply have to accept that. And this time we have now is something we should not be afraid of. In fact, we should look forward to this time.
In the fast pace of life, we often forget to take time really for ourselves. I think it's amazing that many people can finally experience the luxury of time itself. I hope this will encourage us to reflect on our lives and priorities, how we treat the Earth around us, and the consequences of our actions, to go inside and reconnect with our true, peaceful nature. Meditation can be a great tool to help you with this and there are so many forms to choose from! My favorite meditation is still walking up the hill or through the woods, at this time of year with the rustling of leaves under my feet and colorful tree canopies, watching out for mushrooms… Well, I haven't found a mushroom this year. 😊
Avoid obsessively following the news. This will not help you in any way and will damage your immunity sooner by increasing your stress levels, making you actually more susceptible to contracting the disease. 😊 If necessary, you can check the NIJZ information page once a day or even every other day, but avoid sites that try to attract more readers just by spreading fear and controversy. All the while bombarding your brain with such stress-causing content will only encourage you to think stressful and scary. Remember – you have a choice. Even in such a situation, you may choose to focus on positive thoughts and stories that will positively impact your mood. You will feel stronger and find it easier to support others who might really need help.
Find creative and insightful ways to spend extra free time. Try to learn new skills, maybe a new foreign language, read a book, take a distance course, solve puzzles, listen to music that "lifts" you, dance and relax, watch good (including documentaries) or invest some time into developing the business ideas you had and procrastinating with them due to lack of time. Have you perhaps considered writing a book or setting up an online store to sell something of yours? Now is the right time for the first steps. Don't waste this opportunity!
Don't forget to exercise! Fitness coach Gašper Simčič gave quite a few tips in the conversation. Exercise not only provides good physical fitness and self-confidence, but also strengthens the immune system, releases the hormones of happiness, making you feel good right away. Let your goal be to get in the best shape of your life! Take care of your health and strengthen your immunity with a proper diet. Make sure your body is strong inward. Try some new recipes. Now you have time to prepare and enjoy meals without rushing. Make sure your body is maximally nourished with fruits, vegetables, herbs and herbal teas. Add some "antiviral" ingredients to your meals to help your body fight enemies. To name just a few – turmeric, cinnamon, sweet potatoes, licorice, garlic – all delicious and easy to add to our diet.
Connect with people! I think it's wonderful in this situation that the "crown" actually brings many people together in the fight against it. In this we are all together, almost the whole world and together we can unite and stay strong and hopeful! Just because you can't go wherever you want doesn't mean you can't have any human contact. Opposite. We can truly be content and happy to have so much technology available today that people who have experienced similar disasters in the past could only dream of. Why not get in touch with old friends and acquaintances who now live far away and haven't seen them in a long time? Do you share love by sending a positive good morning message to a friend? Or gather friends and play board games online together! All of these things easily remind us that we are all in this together and can support each other and show love and kindness even when we are not in the same room.
Practice focus and slow down your life. Worrying about what's going to happen, or focusing on missing things you can't do right now, can really negatively affect your well-being in the present moment. If you want to feel good, focus on the present moment and make the most of it. Take things slowly, relax. When you eat, enjoy every bite, feel the taste on the tongue, the aroma of spices. If you practice, focus on it completely. Feel how your muscles move, feel the energy in your body. Remember, the moment is all we really have, don't let it pass you by, enjoy!
Take care of the space around you. Make sure it is clean and spacious. Maybe light a candle, light the lights. This will greatly affect your mood. Pamper yourself. Show yourself some love with a long scented bath… Just because you're not going anywhere doesn't mean you shouldn't look like a "million dollars" 😊 Do it just for yourself. Why? Simply because you are worth it! 😊
In the end, take your time and be grateful and appreciate everything we have every day under normal circumstances. Now that some liberties and parties have been taken away, we can actually see how amazing it is to have them in our lives. Let's also be thankful for the extra free time our stay at home gives us and take advantage of it. I hope that we will all come out of this stronger, in our minds, hearts and bodies, and more united and connected to each other and to nature than ever before. Speaking of nature, it's a bit amazing how much positive the "corona situation" has on it – there is less CO2 in the air, less airplanes, I read that the blue sky in China! Let that make us think too …
And just for the end … If you're looking for some inspiration on what to watch or listen to that can positively impact your mood, stay with us. Together we will string together our most beautiful thoughts and share them in the coming days.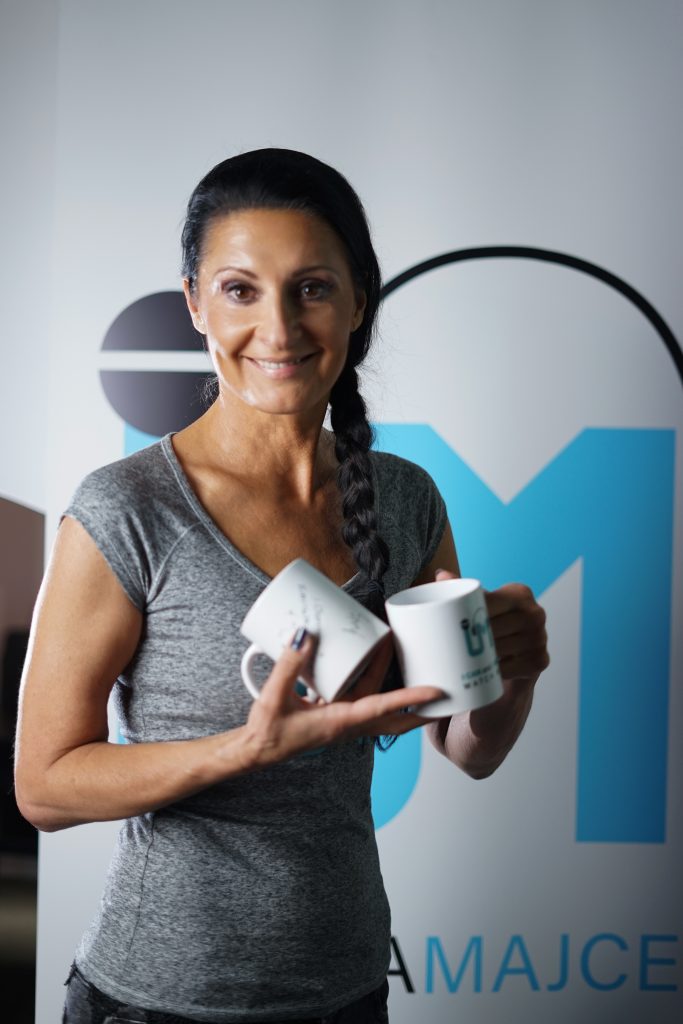 UM